P
asar Payang is a must-visit especially for the first-time visitors to this Sea turtle state (Negeri Penyu). Located just a few minutes walk north
along the pier from the inter-city bus station and Located just by the Sungai Terengganu (Terengganu River).
Pasar Besar Kedai Payang (Payang 's Big Market Shop) or Pasar Payang in short (also known as Central Market) is the lifeline of KT. Located by the Terengganu River, it is one of the most popular tourist spots in KT, not only for shopping but also to have a taste of life in KT. It is also close t
o t
he
Shaba
ndar jetty, making it ideal for a short stop en route to the islands off the coast.
The Pasar Payang is housed in 2 storeys building consisting of a
wet market and a s
hopping arcade, it offers visitors a variety of items to purchase - from grocery it
ems such as such fresh fruits, vegetables, fis
h,
"keropok lekor"
etc to traditional products and souveniers like batik, brassware, brocade and songket.
Visitors to this market will have a delightful experience shopping in local fares at reasonable prices.
Pasar Payang serves as both a wet market as well as a trade centre for the local community. There is a festive air as you approach t
he
entrance of the market, with makeshift stalls lining the path, displayin
g trinkets of all kinds. In their loudest voice, these peddlers will impress you with the alleged magical powers of the amulets, the potency of their traditional medicines, or the quality of their precious stones.
On the ground floor, trading stalls are covered with fresh fi
sh, meats and vegetables of all colour, many manned by kindly-faced old ladies, ever smiling, inviting you to their wares.
The Malayan Medical Green or Ulam
This is where you'll find the familiar lettuce and tomatoes and the unfamiliar and sometimes out of the ordinary like the "Durian"The King of Fruit (indigenous prickly-skinned durian that emit a pungent scent. B
ut delici
ous and if u over eat more that 4 or 5 durian .... i can guaranteed that your air-cond room will be like a boiler room.( See Wiki for Durian) . Instead of, her
e you'll find a whole range of traditional greens Call "Ulam" Ranging from– pegaga, ulam raja, petai (Very strong pungent smell) – normally eaten raw and and cooked with chilli and are seldom found at conventional urban grocers. Each of these vegetables are certified to possess me
dicin
al properties, which can keep check almost every ailment there is. Peria is good for kidney ailments, pegaga for high bl
ood pressure.
You can get fresh produce of local delicacies such as the 'keropok lekor', made of grounded fish and flour, and 'serunding', the spicy flavoursome meat floss.
Two of the many Beautiful Batik and Songket Shop at the Market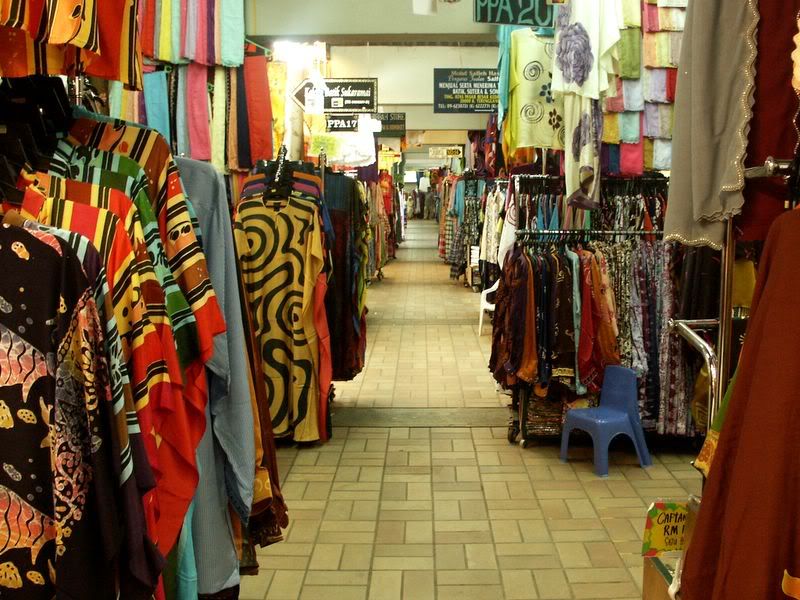 Terengganu is also known for its thriving batik industry. Some of the best batik and songket in Malaysia is hand made in Terengga
nu and a vast choice of this traditional textile can be purchased on the first floor of the Pasar Payang. A wide range of colourful silk handkerchiefs, batik shirts, scarves and kaftans are on display for you to choose from. A wide array of souvenirs. Silk garme
nts, rattan baskets, brassware items and farmers' hats are also popular items on sale here. Be sure to bargain for the best price when you're buying.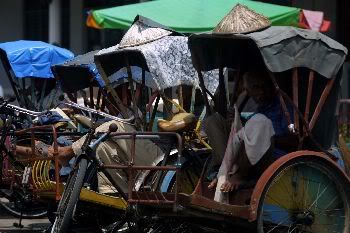 The Local Trishaw that can be found at the Pasar Payang-the best way to see the city