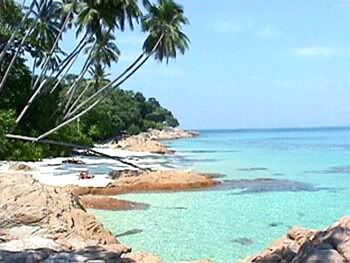 T

he two Perhentian Islands, Perhentian Kecil and Perhentian Besar are two of the most beautiful islands in the world…a virtual paradise and haven for snorkelling and diving and also a haven for those who doesn'
t want or for those who were almost pelt to Deaf by the incessant crazy techno beats being belted out from every Thai island.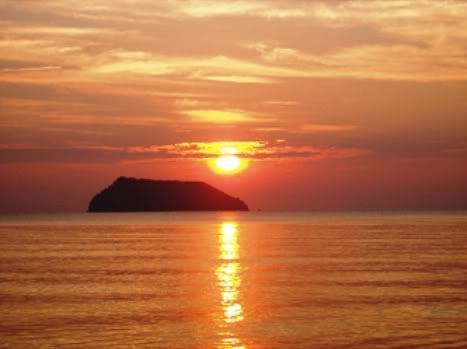 Believe me that your first glimpses of the Perhentian i
slands will be pretty breath- taking (make sure you ready your camera first)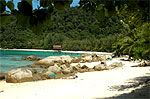 Perhentian Islands can be located 25 km from the coast of Kuala Besut in the South China Sea. It consists of two islands, Pulau Perhentian Besar and Pulau Perhentian Kecil. Both islands, which have white-lined shores, and are surrounded by beautiful coconut palm, which fringe the isla
nd's white sandy beaches and crystal-clear turquoise-blue sea.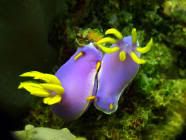 Making trip to this lush and exotic tropical island is a must for all underwater photographers and nature lovers and a haven of virtual paradise for those who enjoy swimming, scuba and snorkelling, s
kin diving, Underwater diving, deep sea fishing, wind surfing, sailin
g, boating and kayaking .

"A lot of people especially tourist misunderstand t
hat th
ese two islands fall within the governance of Kelantan....
all because it is located at far northern of Terengganu and near the neighbouring state, Kelantan. Making its worst further more, the accessible point is through the jetty in Kuala Besut, a small Terengganu fishing village but with a l
ot of
K
elantanese culture
, therefore many people actually thought that they are in Kelantan as what more is that all of the people here speak only the
Kelantaness malay dialect...sigh!!"

In those days during the old time ,The
"Perhentian" or "Stopping post"they are called because of the role they played as a
post for traders and fisherman from Siam and local (Today's Thailand).Because they are only two island and are different size in the area, the people called its Pu
lau Perhentian Besar and Pulau Perhentian Kecil ,where the "Besar" and "Kecil" stand for Big and Small to different which is which.

Both the"Perhentian" islands are separated by a very small and narrow strait that contain the most crystal clear wate
r at the island. But!! beware as the current is quite strong and
no
swimming and
Kayaking are allow!! There are a lot of different between those two islands. Perhentian Besar is more of a vocational island whereas the small one is an island with the mixture of vacation mood and with local lifestyle due to Kampung Pasir Han
tu a fishing village which is resided by more than 2300 villagers with completed basic facilities and also resorts and chalet and bungalow guesthouses.
The home here are randomly distributed
in Kampungn Pasir Hantu. All the house in this Kampung remain in their original plain wooden colour without colourful paint ,except for the white and
blue marine police station, Red and Yellow Klinic ,assembly hall and the scho
ol. because the clear blue sea and sky and also the palm t
rees are the best contrast and complementary.

All the bungalows/chalets that are on Pulau Perhentian Kecil are not on the beach! Here you can find convenience shops, local coffee shops also souvenir shops and soon a cyber café and etc. in
the
village. There are a lot of T-shirt, caps and batiks hanging and flapping by the b
reeze outside the shop and coconut trees waving in the wind Here you can find tourists who do not go out for snorkelling or diving will hang around here in the village or lay in their hummock.

It will be a waste if you come to Perhentians
without paying a visit or have a glimpse to its abundance marine life.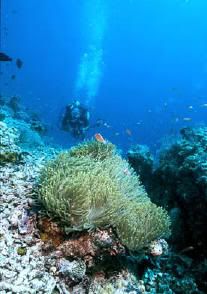 There are a lot of good diving or snorkeling points around Perhentian Kecil: like D'Lagoon, Gua Kambing, Panglima Abu, Batu Nisan, Tanjung Butung and etc which you can find a lot of Colourful crown fish, angle fish, shark, Christmas tree, Deer Horn Coral, Sea cucumber, sea urchin, s
quib,
turtle and more

…..Colourful marine life in all shapes and size which will be
fascinating the underwater world.
The interior of Perhentian Kecil are surrounded by flourishing tropical rainforest with a wide variety of wild life especially the wild and Crazy Chip and Dale"Tupai" or squire who will steal and eats your lunch under your own very plated which will make many delight in your lazy day.

Here you can jouney on a long trekking or a short and simple one. The Trails break into several parts. along the track. There are flora and fauna and also some wild Crazy Chip and Dale .monitor lizards, monkeys, geckos, flying squirrels, butterflies and many other types of animals in the jungle- sometimes right in front of your chalet that might impress or bring you much surprises.

The track start at Pasir Panjang and head to Aur Bay at the west side which takes only about 10 minutes. Then if your are not satisfy and want to go further from just Aur Bay .Head down to beaches in front of a local run chalet, called Mira Chalet to a trail connecting Mira Chalet with the fishing village. This part of trekking involves some climbing up and takes nearly 1 hour for you to reach Kampung Pasir Hantu and 1 hour back or if you are tired you can always look for a boat to give you a lift back.

There are rocky caves hills in the jungle which attract swallows to build their nest in this area which also bring some side income to the villagers who collect the precious bird nest from the caves. The bird nest collected here is just enough to serve the local market which is the resort.

Other than several recently built resorts, the rest of the guesthouses are in small scale with only basic facilities that stretch along the beach.
Perhentian Besar has longer and wider beaches and finer sand than Perhentian Kecil. Most of the beaches are distributed to its western and south eastern side, Teluk Pauh, Pasir Panjang, and Teluk Dalam are the most famous and popular beaches here..

Though accommodation is distributed over the beaches, Perhentian Besar is still covered by a lush rainforest. To the end of the beaches, you can find coconut palm in the white fine sandy beach and the crystal blue sea.
The island is gifted with turquoise water and many colourful fish, Standing in knee deep water u can witness many colourful fish swimming around your legs and little shark which sometime NIBBLE YOU TOE!! and small baby ray which may make u heart jump if you step on them :P.

To the south of the island where there is a beach separated by rocky edges. You can always find fantastic and colourful coral near the rock.If you want to snorkel there please bring a companion and stay far away and pay more attention when you swim near to the rock as the strong wave here can crash you to the sharp rock .

There are a number of trails leading from one beach to the next overland. you can choose to take the jungle trail. Anyway, all the treks are clearly marked.
The jetty at Teluk Puah, near the entrance of Perhentian Island Resort is an ideal place to go if you want something different than to lay on the lazy chair listen to waves and watching the stars in evening. Here during the evening time, the jetty light attract many squib that u can join in with other tourist and local at the jetty in"candat sotong"or "Jigging for Squib"to fish for squib" as all you need is just a line or a small rope with a hook or a pin and then u can go and BBQ your catch.(pls refer to Pulau Kapas). Sometime there are small metal or rattan cages or "BuBu" in the water with blue sea crabs inside. The BuBu is simple traditional trap set by the islander to catch crab.

The jetty is an ideal place to go if you want more than just laying on the resort lazy chair listening to the crashing waves and watching the evening star
Getting there

First, you must arrive at Kuala Besut for you to take a boat to the islands. To get to Kuala Besut, you can arrive from Kelantan or Kuala Terengganu. If you come from Kuala Terengganu, take a bus or taxi to Jerteh then another to Kuala Besut, or a direct bus to Kuala Besut. The journey will take nearly one and half hour.

Alternately

, you can choose to start from Kota Bharu. You can either take a taxi ride or take a bus (leaves every 30 minutes) to Pasir Puteh and then another bus to Besut. Overall, the journey by taxi will take about one hour from Kota Bahru to Besut.

There are

direct buses

from

Kuala Lumpur to Kuala Besut

which take about 9 hours.
Or

Fly

from

Kuala Lumpur to Kota Bharu Aiport

(35 minutes) from then on take a airport taxi to the Taxi terminal(25 - 50 minutes of congest Traffic) or Bus terminal(35-45 minutes) and looked for ride to Kuala Besut..

Journey to the islands takes about

30 to 45 minutes

by speed boat and one and half hours by slow boat. There are a number of boat operators in Kuala Besut offering boat services to Perhentian Island.

The return boat ticket cost RM60.00 per person for speed boat and RM40.00 per person .



Make sure to put heaps of sunscreen and a big thick book for company. The journey are relatively stress-free, Except the bus ride from KL to Kuala Besut, and a 30 min boat ride (fast boat, expect to pay more than the 1 hour slow boat) to Perhentian Kecil..




Warning :





Don't Wear Sunblock and Cream while Diving

.This is becouse ,the chemical that are emitted from the Sunblock can kill THE CORAL and other MARINE life.

Please Help Save The Coral!

Spread The Word!!