P
ulau Redang also knows as Redang Island is located 45 km off the coast of Kuala Terengganu in the South China Sea or approximat
ely 45 m
inutes boat ride from the famous Merang (wooden Jetty ) to Redang island .The Jetty is situated at the fishing village of Merang. The fishing villa
ge is North of Kuala Tereng
ganu.
R
edang Island gazetted as a Marine Park back in
1985, and
enjoy the protection of the Department of Fisheries of Malaysia is one of the 8 isle in Terengganu that top The 10 Most B
eautiful Island in
Malaysia. Redang is also one of The Most Beautiful Island in the World and are among the Best Known and Most Famous Gem Haven for
Diving Activities for T
ourist and All Diver all around Malaysia and the world. Red
ang Archipelago, exists of 9 islands ( comprises of Pulau Redang, Pulau Pinang,
Pulau Ling, Pulau Ekor Tebu, Pulau Kerengga Besar, Pulau Kerengga Kechil, Pulau Paku Besar, P
ulau Paku Kechil a
nd Pulau Lima.) that abound w
ith stunning marine life and coral reef
s that ensure great snorkelling and scuba-diving. Your fist glimpse of the isle will leave you spell b
ounded by the Postcard scenery and instantly captivated by
the lush green carpet of vegetation that covers the gently sloping hills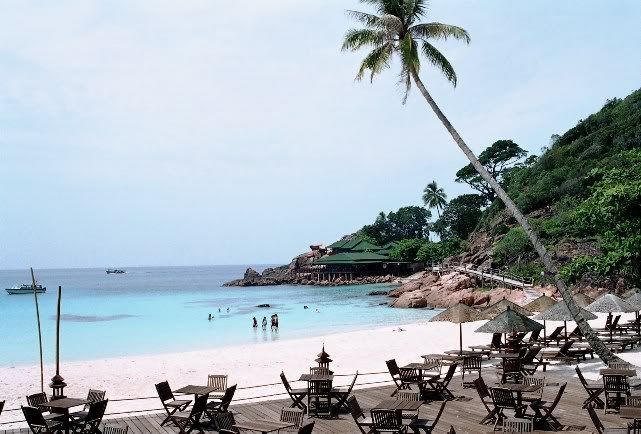 I
mmediately upon arriving at Redang, the light blue water offers an enticing temptation to 'test the water'. A big mistake that are frequen
t by unsuspecting visitors and most first timer and once including me
: P
.Where u will find your self deceived by Redang's crystal clear water.
Many are deceived by Redang's crystal clear water as the sea at Red
ang
archipelago are special! The water visibility here
is about an Outstandingly 45 feet!!. When the sea is very calm it can get up t
o 18 meters, that's Over 54 feet. Which many will find it Unbelievable!! (which is a Bonus for diver and snorkel)
Why? you ask? well....
"Try imaging seeing many people sunbathing along the Beach and then your boat just arrive near the shore and with out waiting for completed stop And for a great Entry with your khaki short ,shirt and wearing a hat and
a sunglasses .You jump into the knee deep crystal clear water like everyone.. Later .. only to find your self your self standing in a shoulder deep
water than ex
pected and had to walk up to the shore and endure the laugh
of the many beach combe
r and (when you see somebody checking in at
the counter with wet attire...your will k
now what had happen to then : P "
We
have seen some for at very calmly and jus
t trodden trough the water and up to the beach.... as if nothing had happen. Still it can be a horrible night mare for children and women...we had seen those who took lightly on the boat opp
erator advice about Redang's crystal clear water. Once at the beach we saw a boat had just arrive in front of resort..a wome
n lift her skirt (Why in hell
that
any one want to wear skirt on a boat Each Time!!!) and took a step and plunge/ Walk the plank into the sea like a rock with her ski
rt like umbrella up to her face. She was shock and
went on panicking in the water that it took almost an hour for her to calm down...in the resort.
So for those out ..You had read my warning. Make sure you pay attentions to the boat operator Warning.

T
he paradise-like island, surrounded by m
ajestic green hills, the Shining white sandy beach ,the crystal clear light turquoise sea water with the
temperature range from 31 to 34 degrees Celsius during the day and wi
th Mother Nature gift of a breathtaking scenic sunset give an unforgettable soothing calm
ness and relaxation sensation to people a
t the Redang island. The
isle is rich in diverse
forms of colourful fishes and abundance marine life swimming gracefully around the world's most mature coral gardens.
T
he water here is very crystal clear that even On the seafront visitors can even see the many beautiful corals and a variety of fish fr
om the beach. Don't be shy to rent Diving and snorkelling gear from any of the resorts or any operators on the islands .even if for just a while in the water to have a closer look
.
A
t the shallow water around Redang isle u can see many
large variety of marine life like the clown fish, many Colourful parrot fish,some reef shark,
stingrays and other small fish brightly lit like colourful neon bulbs. Amo
ngst the corals near the shore and rock, one can see all kinds of shellfish, sea anemone, and Gamat (sea cucumber).
T
here is also a protected marine park at Islan
d, which many people found enjoying for snorkelling, in Redang Marine Park, you can find a many colourful array of spectacular marine life . There are small and big eel to be
find living here amid the coral, giant black and brown grouper, black tipped shark. you may also encounter with the some or lonely Green sea turtle and Hawksbill sea turtle, pufferfish, angelfish, dams
elfish; eels; giant clams; rays, sea urchins, sea
cucumbers . Don't be scare if u bump into with our "Bapok Bayan" a The Biggest Green Humped parrot fish in Redang Marine Park, w
ho usually frequent here with its gruesome teeth and a big lump on its forehead that forage coral. This particular "Ikan Bayan" is at the size of a small build man, making the shark here look very harmless : P
I
n the protected marine park, there are corals of every i
maginable shape, size or color like multicoloured Christmas trees coral, standing like a guardian to the sea. Who will fold up and retract back into the rock and them gracefully popping back again. or Staghorn Coral field, some very big size clamp ( never touch them or it will owned You!!) , taupe shape coral, nudibranch with reef shark, stingrays and other small fish brightly lit like neon bulbs.
I
f you are sharp-eyed diver, will be rewarded with sights of flatworm, shrimp, squid, cuttlefish, stonefish, Dangerous Lionfish, lobster and pipefish.
A word of caution to visitors: No fishing is allowed within a 3.2 km radius of the island and any Fishing, damaging and removing of
corals and other marine life are strictly prohibited and the penalty for breaking the law includes jail and fine.
The Marine Park Headquarter
T
he Marine Park Headquarter is cited on Pulau Pinang wh
ich is in southern of Redang Island . Here is the where officer and patrol boat from Department of Fisheries of Malaysia are place to protect the marine park to inspect and supervise all activities in this area. There are also a few chalets that are built overseeing the sea which can be rent and enjoy by o
nly government civil servants.
T
he sea here are very calm that u don't need to be a good swimmer that u can go rent a life jacket , snorkel, and diving gear at any resort and jump into the sea (except no jumping at the Marine park)

P
lenty of good snorkeling and diving sites can be found here li
ke; Pulau Kerengga Besar, Pulau Kerengga Kechil, Mat Dollah, Pulau Paku Besar, Pu
lau Paku Kechil , Tanjung Tokong, Turtle Bay, House Reef, Marine Park Headquarter, However, deep sea snorkeling is not necessary though there are 2 snorkeling
boat trips to bring you to any of these area.

The water around Redang isle also offer many perfect diving spot including two historic shipwrecks The H.M.S Prince of Wales and the H.M.S
Repulse that were sunk here by the Japanese Imperial Navy at the start of World War II, setting the stage for the Japanese occupation of M
alaya.
To do a diving trip here, you need to book with the dive shop at any of the resorts that off
er its. Even non diver can sign up for a scuba diving course and lesson on the spot. Check up for the detail of the fee charged.
The trekking in Pulau Redang and its Village
R
edang Island is still a very much covere
d by the Rainforest, thank for the government and local islande effort. The ideal time for going for a trekking is at a round 7'o'Clock in the morning. Where you will find the air very fresh and protected by the Strong heat of the morning mist.
T
he trek that u can find here is about 2.5 Km trail that lead from Pasir Panjang a beautiful beach to Teluk Dalam, where u can find a Kampung or village. The trail at the hilly island of Redang is fascina
ting in its own way.Make sure that you bring a camera.with and extra role of two. The trail is well marked and trodden as this place is a favourite path for local and some staff on the island that you may meet during they morning Jog. During you journey you may encounter a small stream and a pool alive with local Cat
fish,If you are lucky u may encounter Redang's unique wildlife but harmless animals such
as the shy Kancil "mousedeer" looking for food .(please don't surprise or scare them as the Kancil here are can easily day offright...No..joking.!!) .
S
ometimes there might be long tailed macaque mo
nkey hanging on the trees staring at you,sometime on the tree you can find flying s
quire, along the way you will see many wonder that are created by the mother earth and also a very beautiful and scenic view of The tranquil and is
olated bay of Berjaya Redang Beach Resort is accompanying by snowy white sandy beach . the trail will end at Berjaya Redang Resort
F
ollowing the properly sealed road will lead you to the "Kampung Nelayan" Redang Fishing village.The village here you can find house that are Centered around a small mosque which sits up on a small hill. You can find a mamak stall or local Restaurant for some humble food for a change ,Mee Goreng (Fried Noodle) , a cup of KoPi Kaw ( coffee ),or you could tried the famous Nasi lemak and Roti Canai here .
The most beautiful beach at Pulau Redang - Pasir Panjang Beach
U
nknowns by most people,The island's finest beaches is in the Pasir Panjang beach, and from my point of view, the beach surrounded by majestic green hills that cast a shadows in the simmering sea with a magnificent shoreline of fine powdery white sand and a coral garden immersed in a clear blue sea is a perfect getaway for holiday seeker.
A
s a bleesing ,I was not the only one that felt that way, as a couple of year ago a big and magnificent resort was build here, The Laguna Redang Island Resort are the only resort built here. The low-rise resort retains a 'modern paradise concept" that cleverly infuses Terengganu 's traditional Malay archit
ecture with modern amenities and yet is in perfect harmony with the natural greenery. that even I who went they at august 04, cant help at marvelling at the unique and finely design of the resort which has 300 rooms and suites (with private balcony) either fronting the beach or a well-landscaped garden that are touched its designer, the well-known Terengganu-born royalties and architect HNR Prince YM Raja Datuk Kamarul Bahrin Shah.
I
f you are going to Laguna Redang Island Resort, you will love the dining experience at the seaview Ala-Carte Restaurant which serve local and continental cuisine and after dinner you can enjoy a walk along the beach under the beautiful and panoramic view of the stars.
T
he resorts also have a nice open disco, private karaoke lounges and indoor beach club which features live entertainment that u will enjoy and they have such a nice staff.
From my experience you will find a lot of thing to do here that are provided by the resort like Snorkelling,island excursion, a sunset cruise, Fishing trip or diving trip in the day or night, thre are also a lot of
recreational water sport that u can join or a jungle trekking from where u are to Teluk Dalam on the otherside of the island.
The language
You wont to worry about the language here as just about everybody here speaks English, since its compulsory subject to be learn in all school in Malaysia. There are also school, police station and a Goverment Health Clinic Centre to be found.
HOW TO GET THERE
By Air :
Malaysia Airline System (MAS) & AirAsia operates services direct from Kuala Lumpur International Airport (KLIA) to Kuala Terengganu. "
however, Air Asia is cheaper, but with limited flights and seats. A MAS round-trip ticket costs RM388.00 [adult] while Air Asia offers as low as RM19.90 for single trip" (that's if you book really early or fly on off-peak hours)

The flight takes about 45 minutes.

or if u in the "rat race" then by Berjaya Air,From KLIA Airport straight to Pulau Redang.
By Road

:
Express buses/Coaches and outstation taxis offer regular services from Kuala Lumpur to Kuala Terengganu.
Coaches go to Kuala Terengganu. It costs approximately RM23.80 one way for Coaches.If you are not rushing for time Takes the coaches where you can enjoy beautiful scenery and experience the local village culture
along the east coast
. The coach stops a few times along the journey at town and villages for tea break, you might get a chance to drop by and experience some Malaysian local culture is like
in the "Kampung Life" as we call it.

Overall The trip takes about 7 hours.

There are many buses, coaches and taxis commuting between Kuala Terengganu town and Merang Jetty.
Destination Day ETD / ETA/ Fare
Kuala Lumpur / Kuala Terengganu, Daily, 2245 / 0645* next day ,RM26
Kuala Terengganu / Kuala Lumpur,Daily. RM28
From Penang

Depart daily at night from KOMTAR or Butterworth stations to Kuala Terengganu. Journey: 8 Hours
from Johor Bahru
Depart daily (10:00am, 9:00pm, 9:30pm, 10:00pm) Larkin Station / Hentian Kompleks Pengangkutan Awam to Kuala Terengganu Journey: 10 Hours Tel: +607-2245182, +607-2220045 Fare: RM28.60 (adult) / RM14.30 (child) from
Singapore
Depart daily (9:00am, 8:00pm, 9:00pm) Singapore (Lavender Street/ Kallang Bahru Junction) to Kuala TerengganuJourney: 11 Hours Tel: +65-62947035 Fare: RM51.90 (adult) / RM25.90 (child)
By Rail

There is no train or railway network to Terengganu at the moment.
By Ferry
The main jetty is at Merang, some 30 km north from Kuala Terengganu. From Merang, the trip to Pulau redang takes about 40 minutes on comfortable, large speedboats. There is no boat ticketing counter at Merang Jetty.

Accommodation and boating are all pre-arranged and on package deal only
so Its best to book from Resort of Tour agency as all resort provide they own package deal from which may include diving surfing ,snorkeling ,kayaking and etc for the best package..
Advice its better to book early as some resort are to famous that they scenic room are book 5 or 8 month earliar. and sometime are booked till the next 2 or 3 year by some Rich Loyal customer.
As Terengganu also don't Have enough hotel to accommodated the large influx of tourist each year. Ps:

Beside that,we dont want the island to be over crowed do we?